As an athlete geting ready for your first triathlon, it can be a daunting thing to ensure that you have packed everything. It is best to make a list, collect and collate all the items and lay them out before packing. To make it easier to find once you have packed and travelled, pack your race gear per dicipline so that they are easy to find and ready to be transferred to your race day transition bags. I generally pack them into travel cubes or string bags (shoe bags) that have collected from previous races (usually from cycling or running races). As soon as you arrive if you have to rebuild your bike, do so! If there are any mechanical issues then you have time to use the rece mechanics or find a local bike shop to fix anything mechanical that may have occured during transit.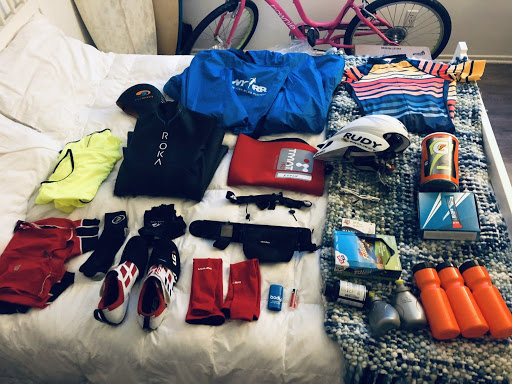 Triathlon Gear List
Pre Race Day
Generally if you are travelling to an event you may arrive a couple of day's earlier, you may need to aclimatize to the conditions, get over jet lag, or just like to be there early. During these few days, you can usually cycle part of the course (which can also be a bike check after travelling to make sure all is working). You can also do your warm-up race prep runs and swim part of the course. If travel packing weight allows it is a good idea to take some kit for this and keep your race kit for the actual race day.
• Cycling kit
• Running kit
• Swimming trunks
• Swim cap
• Multisport Watch and bike Computer
• Towel
Race Day
Having packed your race kit into individual travel cubes or separate bags, it makes it easy to transfer straight to your transition bags for race day. Preparation before you travel, makes it less stressfull once you arrive.
• Tri Suit & sun tan lotion
• HRM strap
Swim
• Wetsuit
• Goggles
• Race Cap
Cycle
• Towel
• Bike
• Cycle shoes
• Socks
• Helmet
• Buff or sweat band (if you wear one)
• Sunglasses
• Race Belt (which has your number attached to it)
Run
• Running shoes
• Socks (dry spare in case cycling socks are wet)
• Cap / Visor
• Sunglasses
Other Items
Not exclusive, but items to remember and often needed, pump for the tyres, nutrition and drink suppliments if you are not going to use or are unfamilar with race day nutrition, charging cables for watch, computer and phone. If you tick them off the list and pack them, then you know you have them.
• Baby powder
• Baby lotion
• Chamois cream
• Vasaline
• Sellotape
• KT Tape
• Scissors
• Plastic bag
• Nutrition – energy bars. snacks
• Drinks – race drink powders, protein powder, recovery drink
• Pills – Salt, ant-inflamitory, pain killers, multivitamins
• Tools – for minor repairs or to rebuild bike after transport.
• Pump
• Batteries (if Di2) and charging cables for multisport watches and bike computers
• Battery charger, phone charger
Post Race
As soon as practically possible, break down and pack your bike, you may be tired, but will not be a mad rush if you have to head to the airport the following day.
Download a copy of the list
Packing List